I was tagged by Rachel at
Secret Scribblings
to talk about my favorite characters to grace the screen...
For those of you who haven't been around here long, I love watching movies/TV shows! (Although, not quite as much as I enjoy reading.) And since I have this love for watching these shows, it makes it difficult to pick just 10... But I'm going to try it anyway! Here, in no particular order, are my Top Ten Favorite Screen Characters!



1.) Dr. John Watson: BBC Sherlock
Dr. Watson, a wounded war vet, wins all the awards for being the "best buddy ever". He is the constant, loyal friend that Sherlock needs, and is always tossing around smart-alac, sarcastic comments about life. His easy-going nature perfectly balances Sherlock's all-work-and-no-play mentality and never ceases to remind his friend that "normal people" can do amazing things too!
2.) Sybil Crawly: Downton Abbey
Sybil is a sweet, feisty little ball of preciousness. She is a rather unique individual and stands out a great deal from the rest of her family. She is kind and caring, and pays no attention to tradition by spending time with her servants and people further down the food-chain than she is... (She even falls in love with her driver!) She was my favorite character on the show until--(*spoilers removed*) UGH!! Why??
3.) 10th Doctor: Doctor Who
4.) Peeta Malark: The Hunger Games
Jo is an orphan, living on the streets of London, looking for his next meal. He made me cry... If I knew this street kid, I would personally feed him, wrap him up in a warm blanket, & read to him!! Why did Dickens have to be so mean to him?? (While watching the show, I kept wondering when his next scene was & worrying about him in the meanwhile.)
7.) William Buxton: Return to Cranford
(*Squeeeeeeeee*) Adorableness levels are through the roof with this character!!! William is a young man with a dream for the future. He enjoys anything modern and is head-over-heels in love. His first scene on-screen is of him chasing his dog through the countryside and tripping in front of a groupof respectable people. He's just great...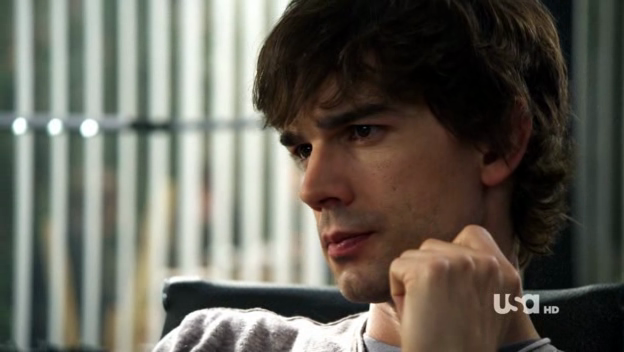 8.) Auggie Anderson: Covert Affairs
9.) Inigo Montoya: The Princess Bride
Kind, sensitive, and very musically inclined, Sam makes me grin like an idiot every time he sings on screen! His happy-go-lucky attitude is contagious! And did I mention his musical abilities...?
Okay, there you have it!! It was hard to pick & choose, but these were the people that stand out at me the most.
I hope you enjoyed reading that! And just for fun... I TAG YOU!! Have fun with it! <3
Currently Reading: Emma by Jane Austen
Just Finished: The Book Thief by Markus Zusak
(Review coming soon! And yes, I skipped ahead & read this one before I was done with Emma...)
Listening to: "Tell Her You Love Her" by Echosmith
H.M. Wilson