Hey, lovely people! I know I've been quiet the past couple of weeks, but my summer finally started taking off! I've been traveling here & there, so blogging hasn't been the first thing on my brain lately. As a matter of fact, I just came back from a lovely trip to Colorado!! So, while I am still getting over the incredible scenery, my pal Opal @
Opal Swirls
is going to share a funny GIF post with you... I hope you giggle!! See ya later! :)
That moment you realize you are a book hoarder...
When someone tries to take some of your books away...
Dreaming of the day you will have your very own library...
Knowing where each book belongs on the shelf...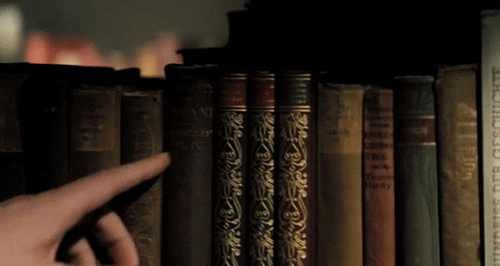 Reorganizing your books...
Having only enough money to buy one new book...
Staying up late to read...
When someone gives you a book for your birthday...
You may be kind of addicted to books...
But in the end, we all know the book life is the best life...
Opal can most often be found hidden behind a book or computer. She dreams of one day ruling the world with her cat, Hunter. If she can't rule the world, she hopes to at least change it for the better in some way. Opal blogs at
Opal Swirls
, where she talks about life, writing, books and whatever else floats through her mind.
Be sure to check out Opal's blog & leave a comment or two! Also, comment down below, and share some of your personal book-hoarding habits...