Hello, lovely people!
So I don't know if you know this about me, but I absolutely love watching a good film!! Yes, there are dozens of Netflix shows I adore & BBC mini-series I enjoy binging... but there is something about a good, standalone film that is just so charming. The stories just seem to stick with me longer. Particularly the ones that have
literary
themes hidden (or not-so-hidden) in them!!
All this to say, today I am going to share with you my TOP TEN FAVORITE LITERARY/BOOKISH FILMS, in no particular order, because I like to make lists & discuss top-tens... So this post is just gonna make me super happy, okay?? So, if you like movies, books, & lists too, then keep reading. Who knows? Maybe you'll discover your new favorite film. *
cheeky wink
*
(Disclaimer: not all of these films are rated under PG-13... I do not condone/support all of the content in these films, but as a whole, I enjoy them for their visual and artistic value, as well as the storytelling factors. However, I know that I have readers who are sensitive to these kinds of things, so I just wanted to forewarn everyone to avoid any possible complaints. Lol! Anyway, moving on.)
1.) Dead Poets Society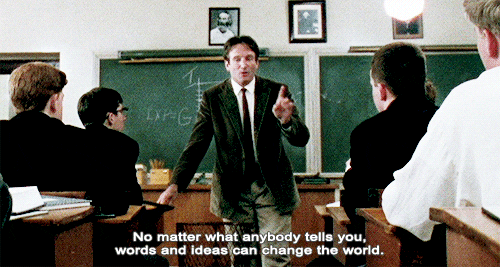 The first literary film
on my list is this beautiful Robin Williams movie,
Dead Poets Society
. Based off of the novel of the same name, by N.H. Kleinbaum, this film is honestly probably in my
top five favorite films
of all time... It features Robin Williams as a kind, gentle, yet still-passionate English teacher (Mr. Keating) in a fancy prep school for boys. He brings poetry and literature to life for them & instills a passion for learning, as well as dreaming big.
This film has made me cry on several occasions, not only because of some seriously heart-wrenching stuff (like, it hurtssss soooo muchhh #ruinedmylife), but also because it's just SO BEAUTIFUL AND INSPIRATIONAL. I honestly feel like this film is the film for readers, writers, and creatives alike!
Side effects from watching may include, but are not limited to... Unexplainable tears, an uncontrollable desire to write/read more, bouts of inspiration appearing out of nowhere, and desperately wishing you had a teacher like Mr. Keating.
2.) Stranger Than Fiction
Next on my list
is another ingenious film...
Stranger Than Fiction
has an all-star cast, featuring Will Ferrell, Maggie Gyllenhaal, Dustin Hoffman, Emma Thompson, and Queen Latifah. The story follows a no-nonsense man named Harold Crick (Will Ferrell) as he suddenly begins to hear a woman's voice narrating his life story—and hinting at the foreshadowing of his eventual untimely death.
The story is all about living life to the fullest, learning to let loose and have fun, and that real life can often be even stranger than a work of fiction. (ALSO... Emma Thompson plays a mentally-unstable writer & I relate so hard, you have no idea! #crazywritersforthewin)
3.) You've Got Mail
An addition
to my list of films is the cutesy, classic rom-com,
You've Got Mail
. Starring Tom Hanks and Meg Ryan, this film always gives me the warm fuzzies. I mean, come on... Picture THIS adorable scenario. Girl works at small, independent bookshop. Guy works for big, corporate bookstore chain.
Guy meets Girl + opposing jobs = instant enemies. It's a delightful recipe made in heaven.
I love this film because of the sweet hate-turned-love cuteness, but I also love how it's all based around bookstores!! There are so many bookish references throughout the film, and it just thrills my little literature-loving heart.
4.) Notting Hill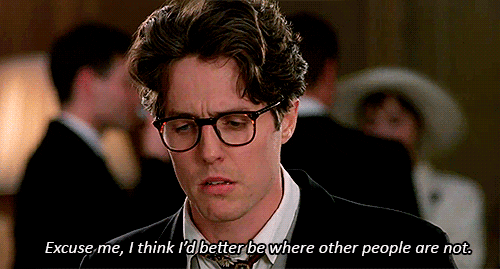 Another delightful member
of my list of favs,
Notting Hill
stars Hugh Grant and Julia Roberts in another sweet, little rom-com... Although, this one leans a bit more on the drama side, the literary references are everything in this movie. (Plus, Hugh Grant's dorky-awkwardness gives me life.)
The basic premise is an average guy with a travel-bookstore and a famous female movie star get mixed up in the
Classic Meet Cute

™
(aka, spilling a drink on the other in public, thus creating the perfect opportunity to talk to one another) which somehow thrusts them into an unlikely relationship. As they navigate the the complexities of their odd romance, they also must reconcile their differences in lifestyle in order to achieve a happy medium.
Honestly, this movie is a good one for introverts, because Hugh Grant portrays one of the most awkward introverts ever. And I love it. The poor guy just wants to be left alone with his books.
5.) Wonder Boys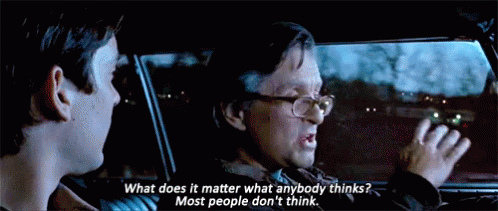 Next up,
we have a film that kind of blew my mind...
Wonder Boys
(based on the novel of the same name) is a darkish comedy that features Michael Douglas as a washed-up-writer-turned-English-professor who has been trying to write a new novel for years, but to no avail. While he is dealing with a plethora of other personal issues, one of his students, played by Tobey Maguire, drags him into an insane adventure involving a dead dog, a stolen piece of Marilyn Monroe memorabilia, and a story that just keeps getting bigger.
This film was amazing to me because there was an aspect of mystery to it, and I was constantly coming up with theories about how I thought things would turn out. And as a writer, I thoroughly appreciated the literary themes, as well as the writerly aspects of the film. (Plus, seeing Robert Downey Jr. cast as a crazy editor was hilarious!)
6.) Matilda
Another book-to-film adaption,
one of my oldest favorites is
Matilda
. I was a huge fan of the book growing up, and the film is just as wonderful, in my opinion! And I feel like it's kind of a staple in the bookish-community.
Matilda is a young girl with amazing powers and a voracious appetite for reading. However, she is surrounded by horrible, mean, ignorant people at home and at school—even her principal is a bully! But Matilda doesn't let that get her down... In fact, she decides to take matters into her own hands.
I love all of the book-cameos made in this film & I relate so hard to Matilda's love of literature. This is definitely a must-see, if you haven't watched it already.
7.) Inkheart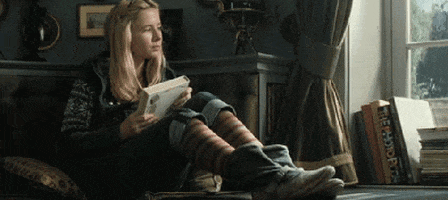 Alongside these other fantastic films
, we have
Inkheart
(yes, another book-to-film adaption!) While the film doesn't follow the book to the letter, the artistic side to the film is what makes me love it so much! Plus, the casting is spot-on. (I mean, Brendan Fraser, Eliza Bennett, Jim Broadbent, and Andy Serkis!!)
Maggie, a teenage girl, discovers that her dad, Mo (Brendan F), has the magical ability to read characters out of their novels! This ability drags their family into a whirlwind of turmoil as they seek to defeat an escaped villain with the help of Maggie's book-crazy aunt, an unlikely band of random story-characters, and the author of the novel that started it all...

This film appeals to the part of me that feels deep connections to books and characters, and wishes that I could actually have them physically manifest in front of me. Honestly, even those it causes trouble in the film, I still feel like the gift of "reading things to life" would be one of the coolest things EVER.
8.) The Princess Bride
Next in line,
we have a film that has been the cause of so many heated Twitter-arguments, I've lost count. While I know
The Princess Bride
is a somewhat controversial subject to some, I am not ashamed to admit that I enjoy the cult-classic film. I grew up watching this movie, and I could probably quote the whole thing, start to finish, by heart.
A grandfather begins to read a fairytale to his sick grandson. A tale which includes "Fencing, fighting, torture, revenge, giants, monsters, chases, escapes, true love, miracles..." But that's not even the half of it. The fairytale involves Princess Buttercup, The Mysterious Man in Black, a Spaniard in want of revenge, a Six-Fingered Man, a Friendly Giant, an Evil Prince, and a Sassy Miracle Worker.
This film is one of the cheesiest-yet-most-charming films I think I've ever seen. It's also one of the most-quotable films in existence, and I love a good quote. However, lots of people can't see past the cheesiness (which is understandable!) and just don't enjoy the film. I personally think it's one of those that you either love or hate—there really is no middle ground with it!
9.) Finding Neverland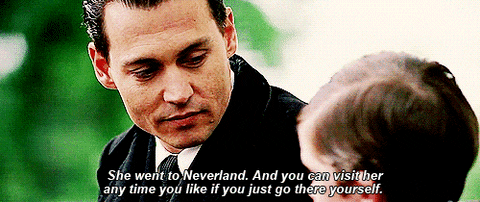 A heartbreaking addition
to the list is
Finding Neverland
, starring Johnny Depp, Kate Winslet, and a very young Freddie Highmore. For those of you who don't know, Peter Pan was a childhood obsession for me. I adored the book, the Disney cartoon, and even the live-action film. But when I discovered that there was a movie about J.M. Barrie himself... Well, I simply
had
to see it.
This film follows the life and inspiration behind the man who penned the tale of Peter Pan, teetering between the magic and wonder of childhood & the harsh reality of adulthood. But it is done in a beautifully masterful way! (Not gonna lie though, I cry every time I watch it.)
10.) Midnight in Paris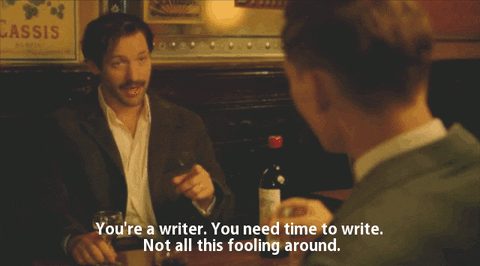 For the final film in this list,
I simply must flail about
Midnight In Paris
... If you enjoy books AT ALL, you owe it to yourself to watch this film. Seriously. It's amazing. Also, did I mention that the cast is honestly one of the best I've ever seen?? (Owen Wilson, Rachel McAdams, Tom Hiddleston, Cathy Bates, and
so
many more!!)
A nostalgic writer who's lacking inspiration (Owen Wilson) takes a trip to Paris with his materialistic fiancée & suddenly realizes that he's able to travel back in time! As he makes these secret midnight trips, he runs into some of the world's best and brightest artists & enjoys the French Nightlife of the 1920's... As he receives writing and life advice from people such as Ernest Hemingway and Scott F. Fitzgerald, the writer begins to wonder if he was born in the right time.
I genuinely adore this film for soooo many reasons! Obviously, the literary value is paramount. But even down to things like the cinematography & the soundtrack... This film is a piece of art and I encourage everyone to watch it.
.........
Well, everyone, those are my Top Ten Favorite Literary Films... Have you seen any of these films? If so, did you enjoy them? Have I made you want to watch any of the ones you haven't seen? Comment down below & let me know!